Medical Conditions
In an emergency situation involving a person with specific needs, the first step is to dial 9-1-1.
9-1-1 telecommunicators play a key role in figuring out the type of emergency that is occurring and determining the proper staff and equipment needed in the particular situation. Whether the individual is having a medical emergency, has had a physical accident, or is in another situation, it is vital to communicate the specific details about the person's condition and needs and understand the response may require very specific actions. Smart911 can provide the important details needed by 9-1-1 and response teams to assist this person.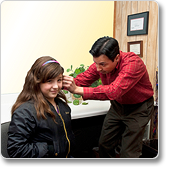 Smart911 can help with...
Epilepsy
If an individual with epilepsy suffers a seizure, they may be able to dial 9-1-1, but not communicate with the call taker. Indicating their condition within their Safety Profile, as well as any specific notes on treatment will help 9-1-1 dispatch the appropriate teams. Having their home and work addresses listed in their profile will also assist in locating the individual during their emergency.
Diabetes
If an individual with diabetes experiences a change in their insulin levels, they may be able to dial 9-1-1 but not effectively communicate what their emergency is.  Noting their condition within their Safety Profile will allow call takers to dispatch the correct response teams, as well as give responders a better understanding of the situation as they arrive on scene.
Alzheimer's
If an individual has Alzheimer's, their name, physical description, photo and specific medical notes can be detailed in their profile. In the event that they dial 9-1-1, if they are not able to remember specific information, the 9-1-1 call taker will have it available. If that person wanders away from home or their caretaker, and another family member listed in the profile dials 9-1-1, the person's photo can be made available to responders in the field immediately to assist with a search.
Allergies
If a person has an allergy to a medication, food or something else, it can be noted in their profile. If they dial 9-1-1 because they are having an allergic reaction, and are not able to speak, 9-1-1 can have a better understanding of the situation and dispatch teams accordingly. If an individual falls unconscious, it is beneficial for responders to know medications they may be allergic to so that they are not treated with them.
Testimonials
"I had my first experience with Smart911 in March 2011 with an acute asthma attack…my information was in there and complete and the units were there in minutes. With the care I received on the way to the hospital I can't even begin to think of anything to improve."
– Jane V. - Goodlettsville, TN
"As a young, generally healthy family, we never expected we'd need to call 9-1-1, but thought participating would be good just in case.  Not long after I signed up for Smart911, we had to call 9-1-1 when my husband suffered a seizure.  When the call was made we had assistance in what seemed like 2-3 minutes."
– Amanda P. - Kentucky