The Ultimate Preparedness Guide
Regardless of where you live, most communities may be impacted by several types of hazards during a lifetime. In these life threatening situations, knowing what to do before, during and after an emergency can make all the difference when seconds count.
Download the Ultimate Preparedness Guide and Family Emergency Plan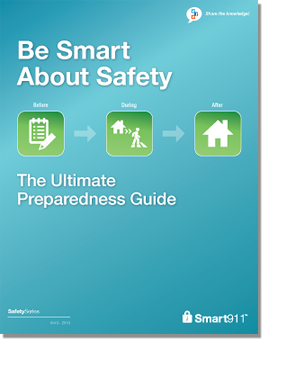 This guide includes helpful tips and techniques of what to do before, during, and after an emergency, as well as a handy preparedness checklist.
Before an Emergency – Make your emergency plans, assemble an emergency supply kit, stay informed, and get involved by creating a Smart911 Safety Profile.
During an Emergency – Excercise proper precautions for evacutation and sheltering in place.
After an Emergency – Update your family disaster plan and replenish essential disaster supplies.
Download the Ultimate Preparedness Guide

Download the Family Emergency Plan
Sign Up Today
Sign up for Smart911 now to create your free and secure Safety Profile. Smart911 can help save your life in the event of an emergency and help first responders assist you when every second counts.
SIGN UP NOW